Yeah, I'm still here! Working on the holiday knitting. I innocently asked a friend, we'll call her 'Penny', for a couple skeins of acrylic from her stash to match some ombres I had. I'm using them for the WWII Museum's Knit-Your-Bit campaign. They collect and distribute scarves to Veterans' hospitals and centers. They'll also take lap blankets and afghans.
A few days later she shows up and dumps this on my doorstep. And promptly flees amid my protests.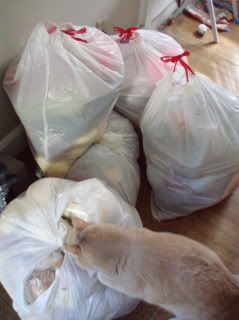 That's 5 trash bags full.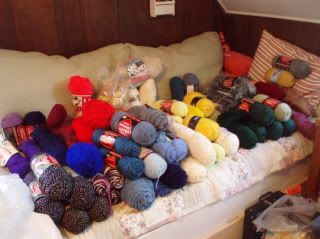 I counted them, there are 100 skeins there! 100 skeins! And a good deal of them are the big 8 and 16 oz. ones.
I have such a wonderful and generous friend, I'm overwhelmed! She went through her stash and picked coordinating colors. So far I've made about 4 or 5 lapghans.
They're a great go-to project(as are the scarves) for when you need a busy-hands-no-thinking-project. I always have a blankie and a scarf on the needles to work on in between other stuff.
PS: the sweater is done except for the sleeves. Oh the shame. It fits well, I have the buttons, but I put it down and haven't picked it back up. Hangs head...