Things are getting back to normal, except we might have to build an Ark any day. I think it's been raining for 6 weeks straight. It seems like summer my never come.
My Puff had a urinary blockage and had to stay in the hospital for 3 nights. He's all better now and back to his usual Puff-ness. It was an ordeal for both of us. I noticed him trying to pee on the couch. Usually he would never do that. When I felt the spot, there were only a couple drops and he was trying again on the rug. I knew it wasn't anything good. Of course these things happen at night and of course the husband was out of town. Actually I thought it might be a UTI and packed him off to the (closer)emergency vet.
Unfortunately that vet is only open 7:00pm to 7:00am and they wanted to keep him overnight. Meaning I'd have to pick him up by 7:00am, bring him home and wait for my regular vet to come in at 9:00am. Considering he needed both a catheter and an IV, I really didn't want to be traveling around with him. So before they did anything, I decided to take him to the 24 hour emergency animal hospital a bit futher away.
Poor Puff, he was traumatized. Urinary blockages aren't uncommon in kitties and they're pretty serious. They admitted him and by the time I got home (40 minutes later), they'd already phoned with an update. They told me he actually scratched people at the clinic! My sweet little Puff went all Puffinator.
Anyway, he's doing well now, but since this can reoccur, I'm watching him like a hawk.
And I've been making stuff.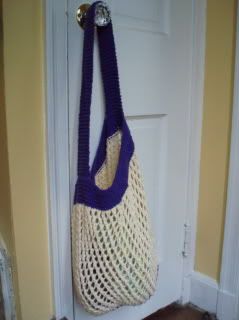 The Grrlfriend Bag, a neat pattern found on Ravelry. Fun knitting. The bottom is solid blue like the strap. It's very stretchy!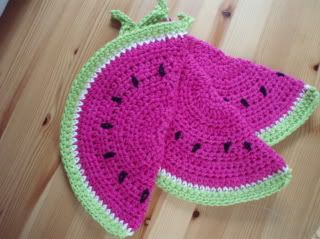 Some silly potholders. I all of a sudden had an urge to crochet some kitsch!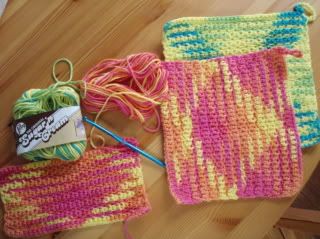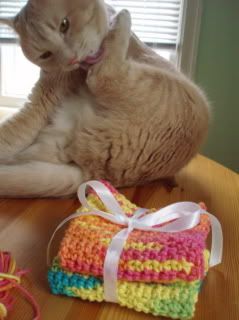 Some crochet washcloths, although Puff doesn't need a washcloth! Seriously, I'm glad that's his foot he's cleaning...