I'm trying to get back the knitting mojo. Ravelry helps. Although sometimes it seems I spend way too much time shopping for yarn, browsing other peoples' projects, and reading about knitting, than actually knitting.
I had a couple false starts, including a nice pattern for a shrug. I like the pattern, enjoyed the knitting, it's coming out the way it should, but I'm not feeling the yarn, Lion Brand Wool Ease Chunky. I have it 85% done and I may frog it! I think it would be nicer in a thinner yarn, same big needles, resulting in a looser gauge. Maybe a cotton. I loves my cottons.
But I did start a few little things...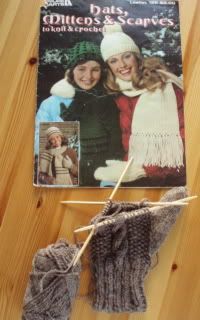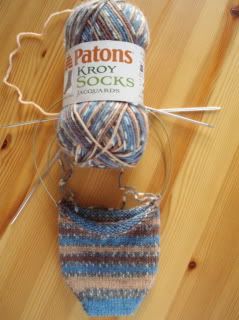 First, a cable mitten from a 1981 Leisure Arts booklet. I don't remember having that booklet prior to moving into this house which was in (gulp)1987, but it's certainly endured for quite a while until Puff put his teethy marks into it over the weekend. Sigh. Since the pattern was written for 2 needles, I adapted it for the round since I'm lazy and don't wanna sew no stinkin seams! And more socks, of course. This yarn looks like a muted version of the Red Heart sock yarn, but it's Paton's. I like it, it's manly enough for the husband. We have sock issues.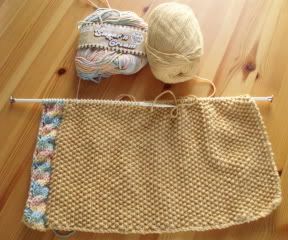 A dish towel from the lovely bib pattern. The color is more mustardy that it appears. It's a ball of Lion Kitchen Cotton found at a rummage sale a few months ago, someone had started it from the outside and rewound it. I just came across it again in a bag sitting next to the half skein of Sugar and Cream and they looked really nice together, the mustards are about the same color.
So there you go. Therapeutic knitting. Nothing challenging, in between cats and litter boxes and cat medicines and outside cats and feeding cats...