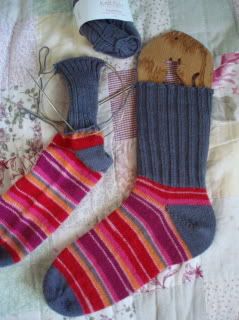 In between feeding the army of cats and cleaning litterboxes(believe me there's a lot of it), I picked up these socks again. I think the last time I worked on them was the infamous 9 hour flight from Galveston or maybe at the doctor's office. That would be June. They're nearly done, and will probably get thrown in the box of shame. I like the socks well enough, I don't have second sock syndrome, rather I have 'weaving in the ends' syndrome. I've posted before about the box of perfectly lovely socks finished but for the dangling ends. Of course this doesn't apply to gift socks. I force myself to Finish them.
Anyway, I got a few single balls of self striping and jacquards from the clearance bin a whille ago and matched them up with Knitpicks solids so as to get a pair. Oddly, I have about 1/3 skein of the stripes left! Did not expect that.
Truthfully, I'm at loose ends, so to speak, about knitting right now. I have a ton of yarn, but am not really inspired. I've been doing busywork. fingerless mitts, another Dumpling bag, finishing these socks. Just keeping the hands busy.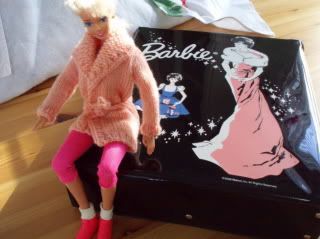 See what I mean? Barbie got a sweater! Poor thing doesn't have decent pants, or a shirt for that matter, but she's got a fabulous new 100% wool hand knit sweater! From Knits for Barbie by Nicky Epstein. Retro Barbie case from W*lm*rt.