Recovery for me, that is! I'm getting the energy back. All the Holiday knitting and baking got done in time, well just barely!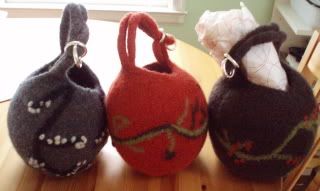 Trio of Dumpling Bags, for the nieces. I used them as stockings to tuck little things inside, including some fingerless mitts. Overall I'm happy with the result, although you can tell I lose creativity when it comes to the embroidery.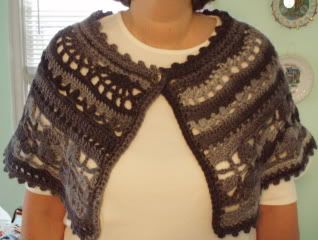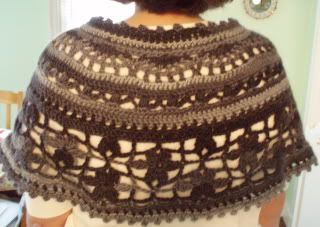 This is the Chanson en Crochet from Interweave Knits, I believe it was a free pattern. I think the errata for the pattern hadn't yet been published when I made it back in February, so I had to wrangle with it. It's Paton's SWS, soy and wool. I'm quite confident it will look way better on the niece than on me!
Now somewhere I have to find the pictures of the mitts and the socks for the husband and brother! And of course I'm still working on stuff for the in-laws, but I've got a little time with that.

And here's the Randycat in his new bigger crate. We realized he's gonna be in the crate for a while, so we went to Petsmart and got the 48" one and he's got lots more room. He's pretty calm, some ferals go nuts. He's still got pretty bad diarrhea, but right now I'm giving him a break between antibiotics. He's got to start some probiotics for the kidneys, so I'm hoping they'll help the tummy too.
Of course the diarrhea can be caused by a number of things. One is bacteria, we've already tried two different antibiotics, and have a third, but I'm giving the poor guy a break and a chance to enjoy his food(since any meds he has have to be mixed in). He was wormed and got a tapeworm treatment so that should help. It could also be caused by his FIV, in which case the antibiotics won't help. I've already tried pumpkin in his food, and have moved on to adding some good old white rice. I'm figuring addressing the symptom is not going to hurt. If I thought I could get some tea and toast into the fella I probably would, lol! Remember the BRAT diet for tummy ailments? Bananas, Rice, Applesauce, Toast. Hmm, babyfood bananas, now there's a thought...