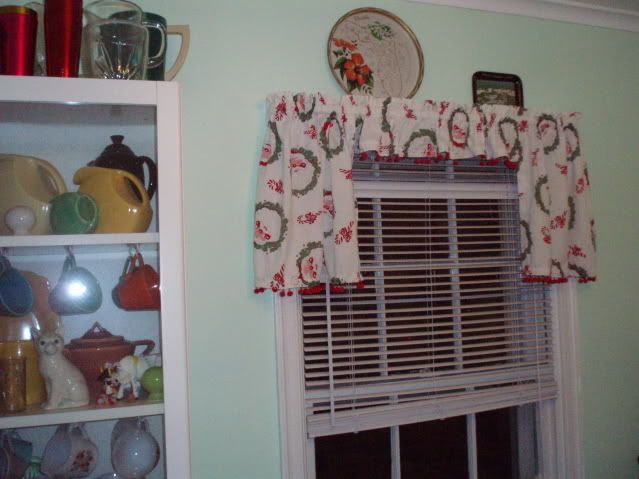 I got these sweet old curtains at a rummage sale a while ago. They were kind of an odd configuration, one normal size valance, one tiny wee valance, and a teeny tiny pair of cafe curtains. They weren't in the best of shape, a few stains, and some of the balls had fallen off the ball fringe. But I loved the vintage santa and candy cane pattern, so I threw them in my bag for a quarter or a dollar or whatever they were. Then they sat in the basement for a few months until I finally threw them in the washer where they lost even more of their balls :(
And I really didn't know what to do with the weird setup. I actually thought maybe I'd make an apron or something. But then I put the normal valance in the dining room just to see how it would look.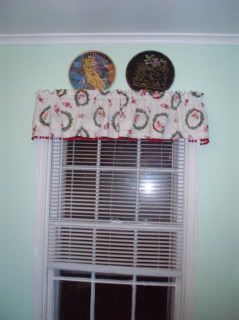 Missing balls aside, it looked pretty cute. So then I thought of fashioning a matching valance from the remaining pieces, but they weren't all that big. Then it hit to to just put them up as they are, the cafes on either end, wee valance in the middle. Since nothing is as easy as it seems, the rod pockets on the cafe pieces were too narrow for my rod. Strange, considering the two valance pieces were fine. There was a generous hem though and I was able to remove the stitching and re-do it a bit wider.
So I'm pretty happy. I think the ball fringe really makes the look though, so I'm thinking about replacing it. I think just removing it would leave them naked, lol. So they're going to remain more shabby than chic for right now!
(The souvenir trays don't normally live over the windows, I just need to find a permanent home for them!)