Yesterday was 1/2 price day at Saver's! And I was lucky enough to go with Monica! We have been trying to get together for a few weeks and finally we made it, yay!
We braved the freezing cold and got there about 9:30, but the it was already crowded. It's the only Saver's left on Long Island since our other one closed abou 2 years ago. In between chatting like old friends(isn't that great when you meet someone and feel like old friends already), we managed to snatch up a few treasures.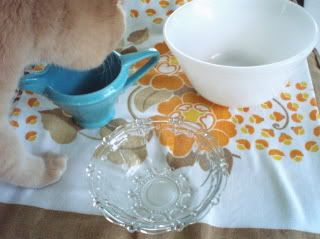 A Harlequin creamer! For $1.00! It does have a little chip in the bottom, but otherwise it's in good condition. The lovely worn tablecloth was also from Saver's, but the white Federal Glass bowl and pretty little glass dish are from the nearby Salvation Army. Puff approves.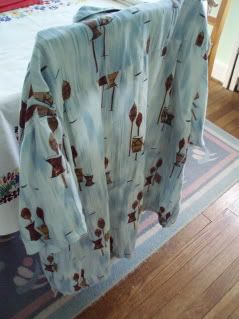 A tiki-ish shirt for the husband. He doesn't like it.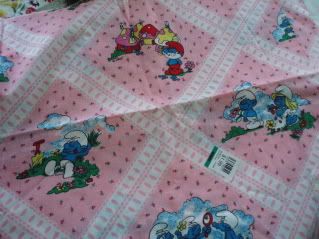 Smurfily delicious fabric. I need this like a hole in the head, but it's really cute!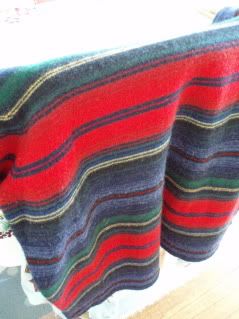 A beautiful sweater for felting. This is a wonderfully soft lambswool, and if it didn't have a couple little holes I probably would not think of felting it. But since it does have the holes, I think it will make a great felted bag.
I also got a Florida souvenir tray with matching coasters, that seems to be lost right now somewhere in the kitchen. We had such a wonderful day of thrifting, talking, drinking tea, I can't wait for the spring rummage sale season to gear up so we can do it again!
Posted at 08:17 am by VaxGirl
Heidi


February 22, 2007 11:39 PM PST



You're so sweet to offer me the Smurf fabric. (I'm writing to you in comments because I accidentally deleted your email). Why don't we split it since you have two pieces? Could you emailme again and I'll send you my address. Thanks again!
Shirlee


February 22, 2007 10:04 PM PST



What is felting a sweater? I may have to google that and find out.
I'm sure you'll be able to re-purppose the shirt you bought the hubby since he doesn't like it.

Mizsmoochielips


February 22, 2007 12:16 AM PST



Oh you lucky girl(s)!! I've never been to a Savers. I thought we had one in town, but when I went to find it, it wasn't there! Can you hear me crying?
Pink Kitchen


February 21, 2007 02:47 PM PST



Wow! I wish I had known about the sale though you two would have been running away from me and my two kids. I am THAT woman with the 2 & 4 year old trying to do a decent day's thrift! :) We actually braved the Broadway Mall and scored at Tuesday Morning before my son set off IKEA's fire alarm!

Cheers! LA
Katie


February 21, 2007 10:11 AM PST



excellent tablecloth.
Heidi


February 21, 2007 12:22 AM PST



I'm jealous of the smurf fabric! If you read my "6 weird things' you'd learn that my last name is what they call the smurfs in German: schlumpf!
Monica


February 20, 2007 10:46 PM PST



I have to post !!!! i just have been busy! Can you believe how WARM it is today!
Heidi


February 20, 2007 02:54 PM PST



You were courageous to brave Savers on a 50% off day! I'm too chicken. :) That creamer was definitely your reward!