I knew this would happen!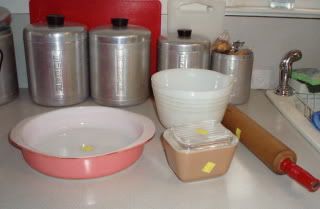 I decided not to get into the Pink & Brown Swap because I knew the minute the pressure was on, I would not find one single pink and/or brown object. And of course, now that I'm not participating that's all I can find! Seriously baked on filthy grimy pink Pyrex casserole. The white bowl has a thick layer of dust too. Nice poo brown refrigerator dish that matches one I got a couple weeks ago.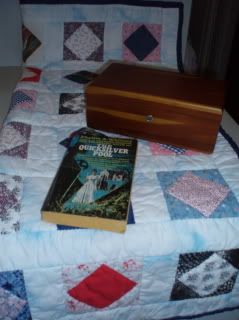 This is a very cute Lane Cedar mini chest/jewelry box. I seem to remember seeing a coupon in Seventeen Magazine, maybe when I was a teenager in the 70's, for a free one of these. It was a gift from your local furniture store. This one says Levitz inside, but doesn't have a key. It's in good shape and has a great cedar smell, yum!
The Phyllis A. Whitney book takes place on Staten Island, NY. It seems to be a period mystery set during the Civil War and was written in 1955. I've learned that Ms. Whitney lived for a while on Staten Island which is a short ferry ride from Manhattan. We briefly looked at houses there a couple years ago. There are some huge and beautiful Victorian homes there, many of which have seen better days. Sadly, some of them have been broken into apartments or made into rooming houses. Anyway, that's why I got the book; I hope I can get interested in it.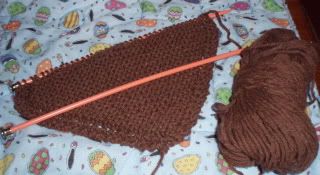 A brown washcloth on pink needles! I noticed that last night. And yes, it's sitting on an Easter placemat. Sometimes I just grab what's handy.
Posted at 01:12 pm by VaxGirl
VaxGirl


September 12, 2007 09:47 AM PDT



I think by the time I graduated, only 4 years later than you, maybe they were already out of fashion. Somehow I remember seeing them in Seventeen magazine, but maybe when I was younger? Oh well. I'm pretty happy with it, I have it on my dresser. It's nice to hear you still have yours.
gebah


September 11, 2007 12:24 PM PDT



not sure if you'll notice this comment as the original post is from january....but i had to comment on the lane cedar chest....i graduated high school in 1970 (from a northern nj high school) and all of the girls in my class were presented with one....i have mine sitting on our coffee tablel with my remotes in it....
lucy


January 20, 2007 04:32 PM PST



I might have to bribe those pink and brown thrifty find out of you as I'm have NO luck finding anything, I just KNEW that would happen!! :P


Heidi


January 19, 2007 12:09 AM PST



Well, since you're not in the swap you can't keep them for yourself! Great finds!
Linda T


January 18, 2007 07:36 PM PST



That is the one color pyrex refrigerator container that I DON'T have! Such a cool color! Great finds!
Heidi


January 18, 2007 06:00 PM PST



I have that same pink Pyrex dish, and those same aluminum canisters in the back except I'm missing Flour. LOL on the poo brown--what were the geniuses at Anchor-Hocking thinking when they approved that color choice? Cool rolling pin, too!
Rebecca


January 18, 2007 03:54 PM PST



Ha! You see! You'd be all set for the P&B swap! I hear that pink pyrex is hard to come by. When are we going thrifting? I've been a crappy friend and should be in touch more. We should atleast try to get together for lunch or dinner. Lord knows I love to eat lately!